Big City Apartment, Cozy Small Farmhouse Style Makeover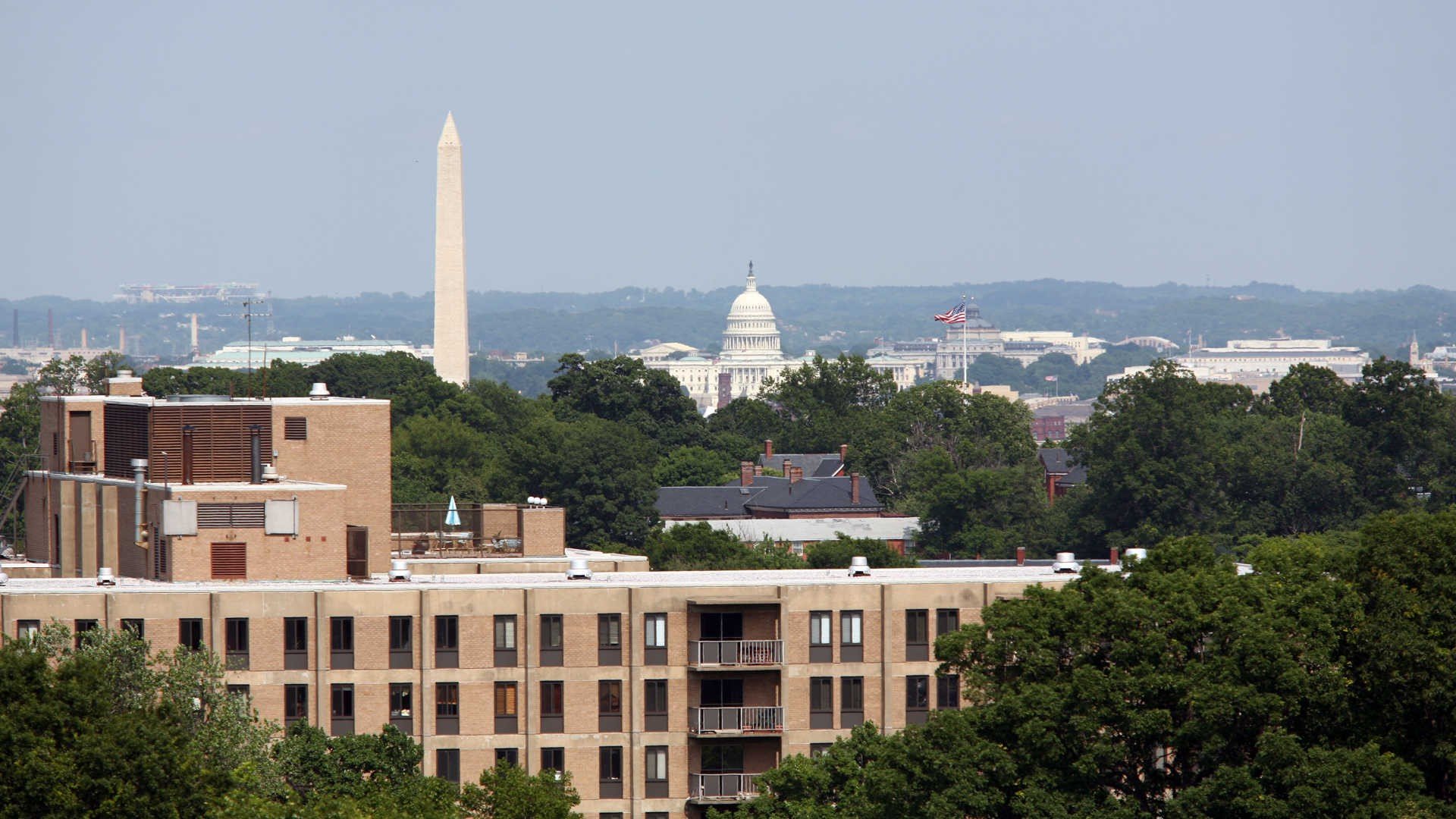 Every new year brings change, but certainly some years bring more significant adjustments than others.  This year our youngest daughter moved out, leaving us with an empty nest and our other daughter is expecting her first child. Both exciting changes in their lives as well as ours!
Not to be outdone in the excitement department, my husband accepted a new position…in a different state…Washington DC! I know…Washington DC is not a state at all actually, but the point is it's over three hours away!
So, on top of all the other changes this year, we found ourselves needing to set up a city apartment in order for the hubby to have a place to live during the workweek. And since I plan to go with him and work from DC on a fairly regular basis…well, it goes without saying that our apartment MUST be cute and nicely decorated!! But wow! These city apartments are small! We don't live in a big fancy house, but after the first day of touring apartments I was reminded to be thankful for the space we have.
Listen, we're from Bucks County, Pennsylvania – the upper, more rural part of the county…nothing Urban about it…barely Sub-Urban…very Small-Town-USA actually. So this is rather huge for us. We're used to gardening, sitting on the front porch, listening to birds, crickets and cicadas, shoveling snow, raking leaves, mowing the grass…We are NOT used to sirens in the middle of the night, riding an elevator to get to the front door, walking to the grocery store, city lights, endless sounds of construction projects, Uber, a tiny patio 11 stories up, or an apartment that's a quarter of the size of our modest home in Pennsylvania! This is going to take some getting used to…
We've decided to think of this big change as an adventure and we're looking forward to some new experiences in DC, but first we needed to find a place to live. We settled on a smallish one-bedroom apartment in Arlington, VA with a cozy, home-like feel in the lobby; sofas, woodwork, fireplace and music. Next, we discussed the decor style we wanted for our new place. We went down the modern-city-apartment path for a few days and also briefly considered a mid-century-modern style. These decor styles have their appeal, but we wanted a place that felt like home – comfortable and welcoming. So, in the end we decided that we would do what we could to bring the country to the city!
A cozy small farmhouse style makeover offers an updated, contemporary spin on country decor and we decided it's the perfect fit for our little apartment.  As the "lighter-side of country," farmhouse decor offers a fresh take on traditional country or country primitive styles. This stylish-yet-simple look retains the relaxed, welcoming, and warmhearted feel that we crave in our home-away-from-home. It's also given us lots of excuses to visit our favorite antique shops looking for unique one-of-a-kind finds! And while farmhouse decor obviously has its roots in the country, its easy-going approach holds great appeal to city folk as well!
Once we decided on farmhouse style, I acquired the measurements of the apartment, found a floor plan app for my tablet, decided on a color palette, and set about the task of acquiring the furniture, housewares, and decor that we'd need to make our little apartment feel like home. After countless hours of rearranging floor plans, coordinating pillows, scouring antique shops and my own closets, and deciding on furniture, rugs, and lighting we packed everything up and headed to DC.  My dear sister and brother-in-law were a tremendous help in getting everything unpacked and set up! In no time at all it seemed we went from an empty echoing apartment, to a disaster of boxes, packing materials, and scattered household goods. Then finally, to a put-together space that feels like we've lived there for years.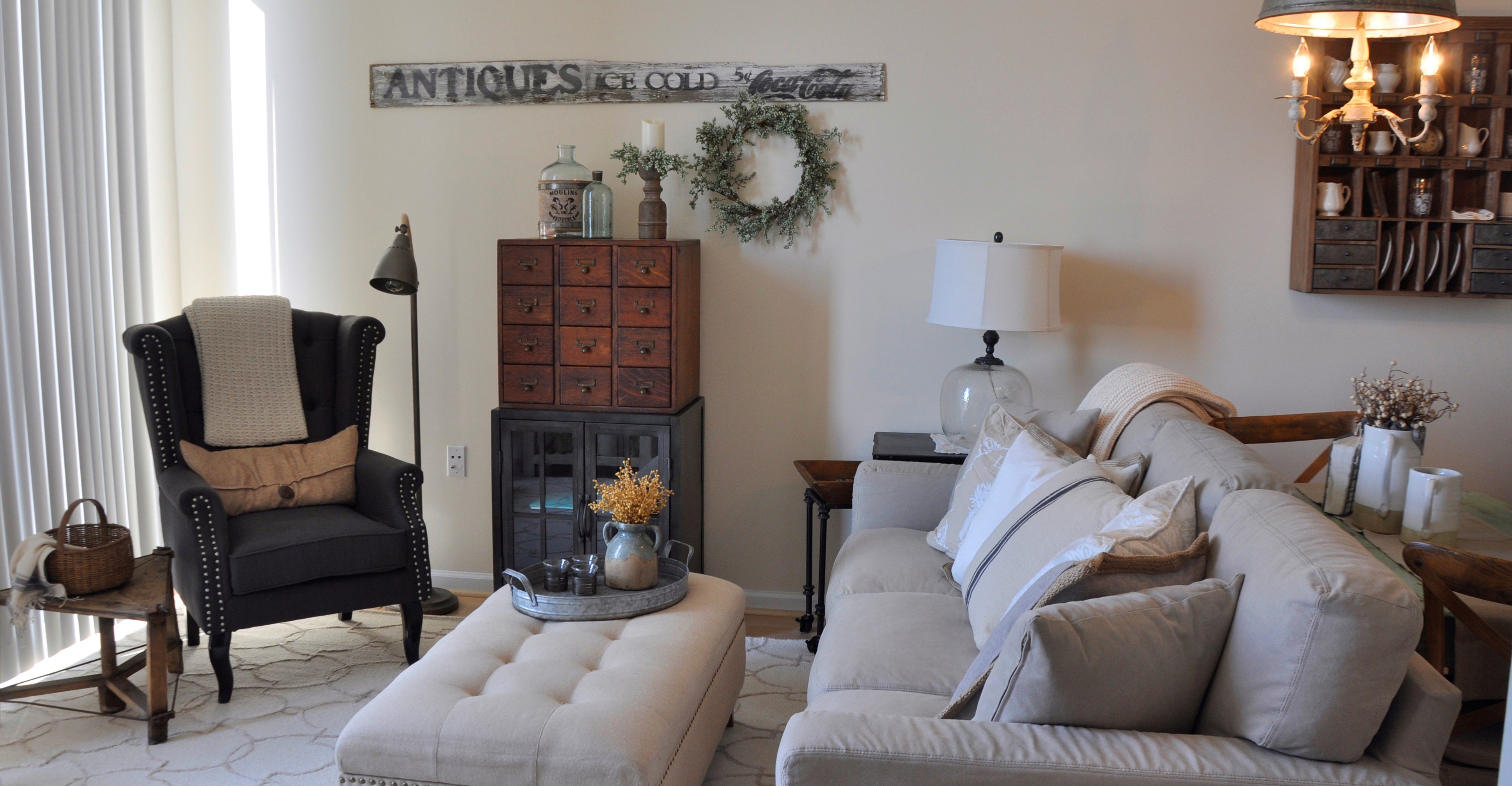 The choice of farmhouse style decor was definitely a good decision for this apartment. Our place feels cozy and comfortable but at the same time bright and cheery.  And I'm loving our tiny little farmhouse in the city! I think I'll even plant some tomatoes in containers on our patio this spring. If that fails, no worries, I see there's a farmer's market on Wednesdays in the summer. It's just two blocks away by the Metro station. I'll take my market basket and fill up on fresh produce. Afterwards, maybe I'll eat lunch at an outdoor cafe, ride the Metro to a museum, or take my computer to Starbucks and do some work. I can be a city girl…as long as I have a little farmhouse to come home to.
I had a great time with this cozy small farmhouse style makeover and learned a lot along the way. In a future blog I'll share some tips and tricks for decorating a small space – Farmhouse Style.